World Class Fishing Lures & Tackle
Kodiak Custom Fishing Tackle is an Alaska based operation that designs and manufactures some of the best North American fishing lures and tackle this world has to offer! We demand only the best equipment and take pride in offering the highest quality fishing gear that money can buy. Kodiak Custom Fishing lures are original designs, or improvements made to existing lure models, and tested to perfection among our team of tight-knit professional anglers before our products are made available to the public.
SALMON LURES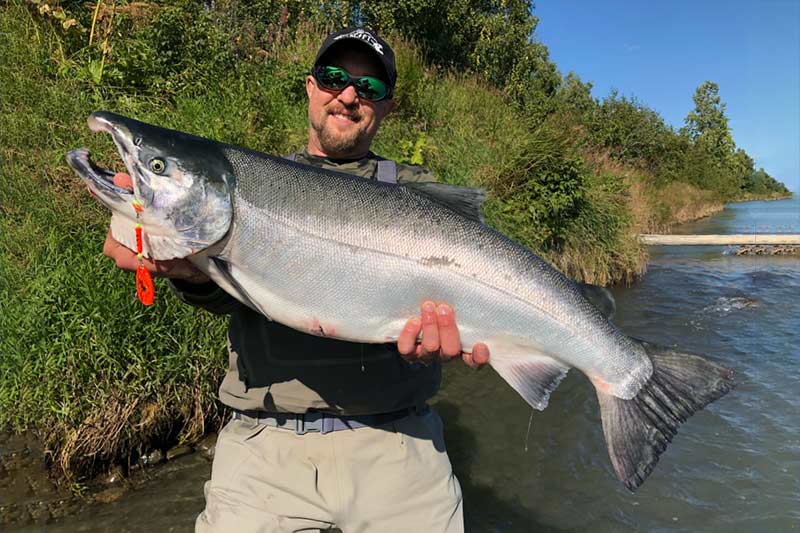 STEELHEAD LURES
LAKE TROUT LURES
NORTHERN PIKE LURES
BOTTOM FISH LURES
TROUT & GRAYLING LURES
LURE COMPONENTS
MERCHANDISE
An Amazing Selection Of Premium Quality Fishing Lures
Our fishing tackle is specifically geared for catching nearly every species of game fish in North America but the carnage doesn't end there. Kodiak Custom Fishing Tackle catches fish all over the world! Anglers use Kodiak Custom Fishing Tackle to catch numerous species of sport fish including salmon, steelhead, trout, bass, crappie, pike, musky, burbot, halibut, lingcod, rockfish, and the list goes on!
Many of the best lake trout tube jigs, salmon and steelhead lures, northern pike spinners, and lingcod and halibut jigs are made right here in North America by Kodiak Custom Fishing Tackle! In addition to being a household name that's notorious for catching every species of game fish in Alaska, anglers from coast to coast use Kodiak Custom Fishing Tackle to catch everything from salmon, steelhead, and trout in the Pacific Northwest, trophy lake trout and salmon in the Great Lakes region, northern pike, musky, and panfish in the Midwest, to bass and crappie in the surrounding states.
But wait, there's more! Kodiak Custom saltwater fishing gear has the nation surrounded! Our bottom fishing lures are in high demand along the East, West, and Southern Coastlines of the U.S. for halibut, lingcod, and bottom fish! Kodiak Custom jig hook rigs are even used to catch tuna, mahi-mahi, and several other warm water tropical fish species!
The Kodiak Custom craze is gaining popularity in Canada, Norway, Sweden, and various European countries with our salmon, lake trout, northern pike, and saltwater bottom fishing lures as well.
KODIAK CUSTOM BULLETIN BOARD – EXTRA! EXTRA! READ ALL ABOUT IT!
1. NEW Casting & Trolling Spoons coming soon!
2. Titanium Leaders coming soon!
3. Mini soft plastics coming soon!
4. More fishing videos coming soon!
5. E-mail quality photos or video of fish caught on our gear, with our lure still in their mouth, for a chance to be featured. See PHOTOS PAGE for details.
Kodiak Custom fishing gear can be purchased right here on our website, in addition to a growing list with over 100 retailers in the U.S. and Canada. Visit our Dealers Page for a list of retailers that offer Kodiak Custom Fishing Tackle in a store near you. Dealers wanted, a guide program is offered, and international shipping is available. Please contact us via email for international shipping, guide program, and wholesale dealer account inquiries.
If you're searching online for the ultimate custom lure marketplace, then search no more! You found the best fishing lures and gear right here at Kodiak Custom Fishing Tackle!
Use the best, out fish the rest!
Connect With Us!