World Class Fishing Lures & Tackle
Kodiak Custom Fishing Tackle is the #1 local brand of Alaska Fishing Lures. We design and manufacture quality gear that targets nearly every species of sport fish in Alaska. Anglers from around the world use Kodiak Custom Lures to tackle everything from salmon, bass, northern pike, lake trout and burbot to halibut, lingcod, rock fish, and the list goes on!
SALMON LURES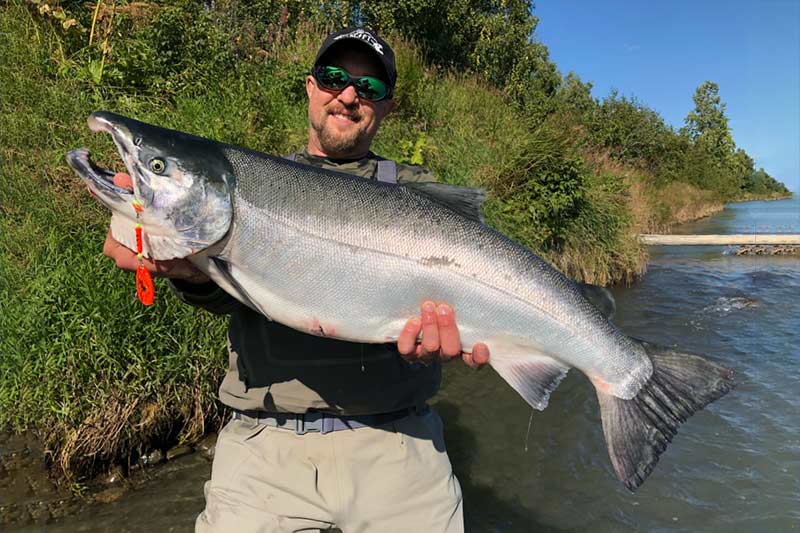 STEELHEAD LURES
LAKE TROUT LURES
NORTHERN PIKE LURES
BOTTOM FISH LURES
TROUT & GRAYLING LURES
LURE COMPONENTS
MERCHANDISE
An Amazing Selection Of Alaska Fishing Lures & Tackle
Kodiak Custom Fishing Lures can be purchased in nearly 100 Alaska retailers, select locations in Canada and the lower 48 states or direct from our website. Visit our Dealers page for a list of retailers that offer Kodiak Custom Fishing Tackle in a store near you. Dealers wanted, guide program offered, International shipping available. Contact us direct for inquiries.
KODIAK CUSTOM BULLETIN BOARD – EXTRA! EXTRA! READ ALL ABOUT IT!
1. NEW Casting & Trolling Spoons coming soon!
2. Want to be featured on our website or social media? E-mail quality photos of fish caught on our gear, with our lure still in their mouth, for a chance to be featured. See PHOTOS PAGE or visit Kodiak Custom Fishing Tackle on Facebook and Instagram for details.
Shipping and Receiving in the U.S.A.
PLAN AHEAD!!! Orders are shipped in the order they are received so please avoid waiting until the last minute to order. We recommend ordering at least 14 business days in advance to insure your order is received before needing it.
Orders ship from our facility (depending on weekends, time of year and holidays) within 1-7 business days of receiving payment confirmation. Once shipped, orders usually take 3-5 business days via U.S.P.S. Priority Mail, to arrive at their U.S. destination. Weekends, holidays and disasters may prolong the delivery of orders. Custom orders may take longer to ship due to specifications, materials in stock and set up process.
Shipping Cost & Information
U.S. domestic shipping via U.S.P.S. Flat Rate Priority Mail only. International shipping via U.S.P.S. International Priority Mail.
Domestic shipping is automatically charged on a per dollar spent table rate;
1. $0.00 – $100.00 = $9.95 shipping.
2. $101.01 – $300.00 = $15.95 shipping.
3. $300.01+ = FREE SHIPPING!
International Shipping To Canada and Other Countries?
Yes we do ship outside the United States via U.S.P.S. Priority Mail. Contact us for International order inquiries and shipping costs.
Buy Local – Find A Retail Store Near You
Refer to our Dealers Page for a list of Kodiak Custom Fishing Tackle retailers that may be in your area.
Can I Order Direct Instead Of On The Website?
Yes we accept a check, money order, debit or credit card for payments. However it is most efficient and cost effective to order on our website.
Kodiak Custom Warranty
No fishing lure is totally indestructible but it is our commitment to manufacture the highest quality gear available and take care of our friendly customers who use it. As we continue to grow, some of our products may go through changes that correct an unforeseen matter or improve the lure.
Kodiak Custom Tackle backs our brand with free replacements or repair of lures that become problematic from manufacturing issues or damage in shipping, at our discretion. Normal wear and tear or neglect are not eligible for our replacement offer. To take advantage of our generous warranty offer, contact us via Email with a "FRIENDLY" explanation of the issue.
We will provide a shipping address to mail replacement goods to upon approval of your request. Products must be returned to us before our replacement offer is honored. Although rarely exercised, Kodiak Custom Fishing Tackle reserves the right to reject and/or cancel our replacement offer service to customers who are fraudulent, rude, demanding or insulting in any way.
Connect With Us!